Our heart project - ISS DAS BUNT
Since 2021, we have been dedicating ourselves to another important nature conservation issue in addition to the reforestation of forests. With your help, every year we turn larger and larger areas into valuable flowering meadows that offer the little ones shelter and food. Many insect species, especially wild bees, lack these important survival spaces – with your support we create a new home for them and thus contribute to the protection of bees, bumblebees and other insects that are also vital for us and are part of a species-rich nature .
Because for every vegan and vegetarian burger that left our kitchen from May 1st to May 31st, 2023,
we sowed five square meters of flowering meadows in Mecklenburg-Western Pomerania.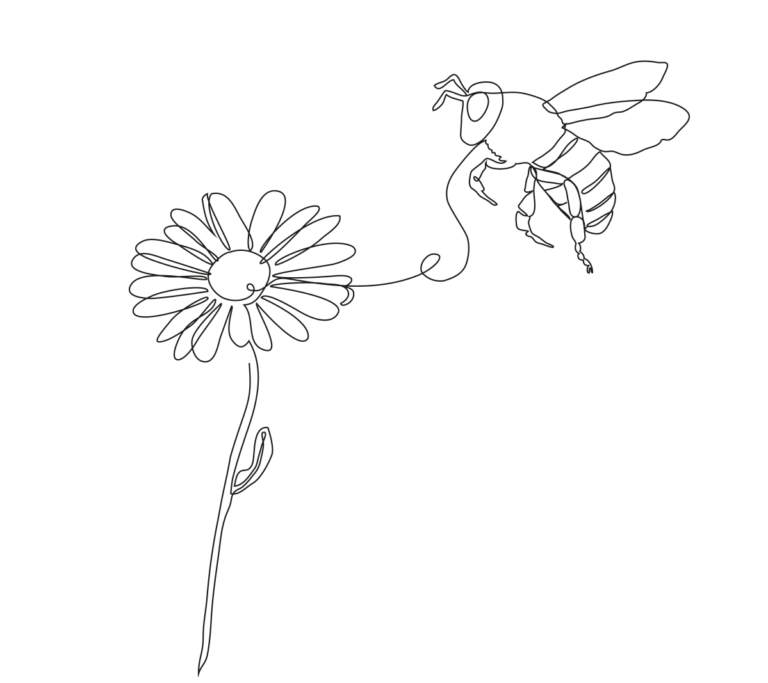 That's really great – but still not enough for us. There is still a lot to be done to protect the wild bee habitat. That's why in 2023 we surpassed our successes from previous years. But we were only able to do that with your help – because only together are we a really strong team. You support the PETER PFLANZT crew in creating a bee paradise.
We would like you to be there live and experience up close how we create habitat and make our contribution to the preservation of wild bees. Feel free to follow us on Instagram, where our social media team will take you into nature in our "live on site" stories and explain to you step by step how we create and care for our flowering meadows.
Did you know that bees have been around for 50 million years and the honey bee is the smallest but one of the most important human pets?
Unfortunately, humans are also bees' greatest enemy. They threaten their survival through habitat destruction and pesticides. We want to counteract this and therefore sow hectares of flowering meadows every year.
Did you know that there are over 500 different wild bee species in Germany alone?
The smallest of them is the sand steppe bee, the largest is the blue carpenter bee. Unfortunately, about half of the wild bee species are critically endangered or even threatened with extinction. We are therefore striving to create more and more survival space for these species and thus secure them for future generations. Long live diversity!
Did you know that some bee species don't build nests but sleep in flowers?
They like to cuddle up to each other to relax from their busy day. Treat yourself to a break, let us spoil you with a vegetarian or vegan burger and create a cozy sleeping place for bees at the same time.
Bees have been on earth ten times longer than humans and have been essential to our survival since the dawn of time together. They pollinate most wild and cultivated plants as a side effect when collecting pollen. Among them are all fruit trees and many vegetable plants, which can only bear fruit if their flowers have been visited by bees beforehand. This makes the honey bee not only the smallest pet, but also a livestock that is essential for human survival. In addition, wild bees, together with a large number of other insects, form the basis of a complex food network that birds and other small animals need to survive. Biodiversity as we know it can only be preserved if we start at the bottom and offer protection to even the smallest.
Since the late 1980s, the diversity of insects in Germany has declined by 76 percent and more than half of all wild bee species are severely threatened or even on the brink of extinction. This is mainly due to the use of pesticides and very intensive agriculture, but also to the destruction of suitable habitats such as fallow land, old grass strips and flowering meadows. When there are fewer insects, there are fewer animals that feed on them. For example, the bird populations that need insects to raise their young are declining sharply. We love nature in all its diversity and want to create a future in which everyone has space. That is why we are doing our part to slow down the decline in wild bees and other insects. We sow a special, annual mixture on our land that is tailored to the needs of wild bees and also benefits many other species.
We have set ourselves big goals and with your help we easily exceeded them:
It should be half a million square meters – as much as 70 soccer fields – but in total we have planted over a million square meters of flowering meadows in recent years. That's incredible, but not nearly enough. We want to sow even more flowers in and make the world a little more colorful. Together we create important habitats for wild bees and at the same time protect the diversity of our nature.