HOW WE MAKE THE WORLD A LITTLE GREENER.

GREEN UP WITH PETER INITIATIVE
From the very beginning, we have been deeply committed to preserving and restoring forests throughout Germany. At the core of the initiative, we create habitats for plants and animals, as well as a place of recreation for humans and make a real contribution to the environment.
"Green up with Peter" encompasses much more than that. We are now actively engaged in several other areas to improve the well-being of both humans and the natural world. We are making progress towards ensuring that all of our products are environmentally friendly, recyclable, and long-lasting, and we have been focusing heavily on protecting bees since 2021.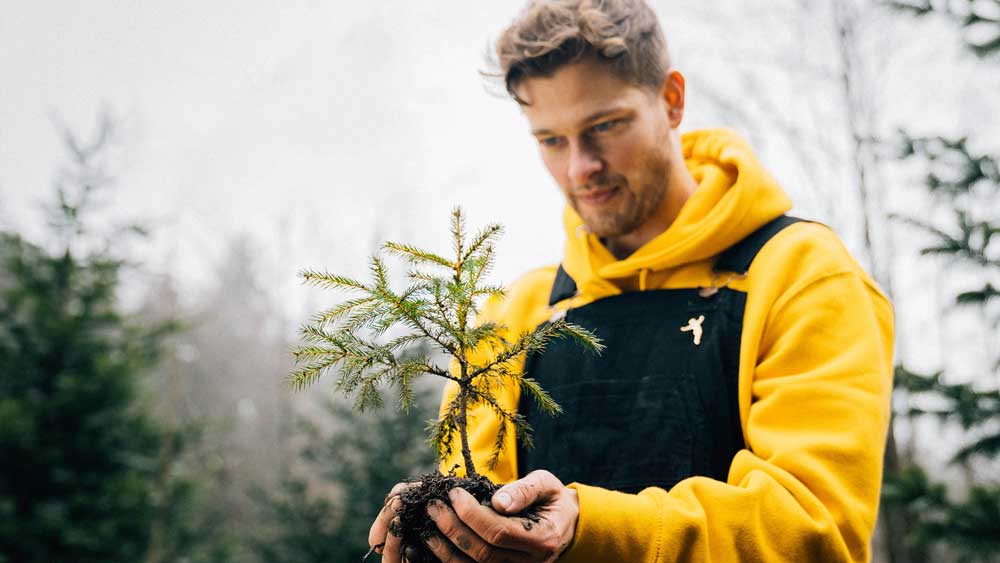 OUR INITIATIVE HAS A PURPOSE
Doing good things that we're passionate about.
To offset our CO2 emissions, we manage around 1000 hectares of mixed forest in Schleswig-Holstein and Mecklenburg-Western Pomerania, which is equivalent to approximately 1400 soccer fields, and we also plant around 100,000 new trees every year on these areas.
Trees serve as one of the biggest carbon dioxide storages and play a vital role in protecting our climate!
By planting trees, we are actively combating climate change and contributing to the preservation of our planet's delicate balance. In addition, we have created habitats for endangered species like otters, beavers, and eagles to thrive.
Maintenance of 1000 hectares of own mixed forest (about 1400 soccer fields)
Planting projects exclusively in Germany
100.000 trees planted in 2021 alone ("eat-it-green"-weeks)
Annual planting
600,000 sq. ft. of bee meadow planted in 2021 (eat-that-colorful).
WHAT YOU SHOULD KNOW ABOUT OUR FOREST
WHAT WE DO GOOD BEYOND THAT.
We are well on our way to ensuring that everything produced for us is environmentally friendly, recyclable and durable. This includes our 100% plastic-free, biodegradable and recyclable burger boxes and straws, our certified sustainable wooden cutlery, and all of our promotional materials. The abundance of regional products with their short delivery routes and our palm oil-free frying fat are also particularly good for the environment.
This is how we make it possible for future generations to have the chance to live in a natural world.
Even more sustainable, even healthier
We rely on the most sustainable form of production: directly from the bed to the plate.